Hey there, homeowner! If you've landed on this article, we're going to take a wild guess here — you're redecorating your kitchen! If that exclamation point makes you roll your eyes, chances are you're in the thick of it too. Yes, making over your home can be quite the tiring process, but don't stress. Dressing up with kitchen windows treatments should be fun, especially in this particular space. This special room of your house is a great opportunity to make design choices that are a little more quirky and different from the other rooms in your home.
The process of buying kitchen window treatments is a breeze when you know how to navigate it. There are a couple of guidelines to watch out for, but the rest is all about infusing your personality. In this article, we've outlined how to tackle this process. We've already done the hard part, so now you can focus on the fun of it.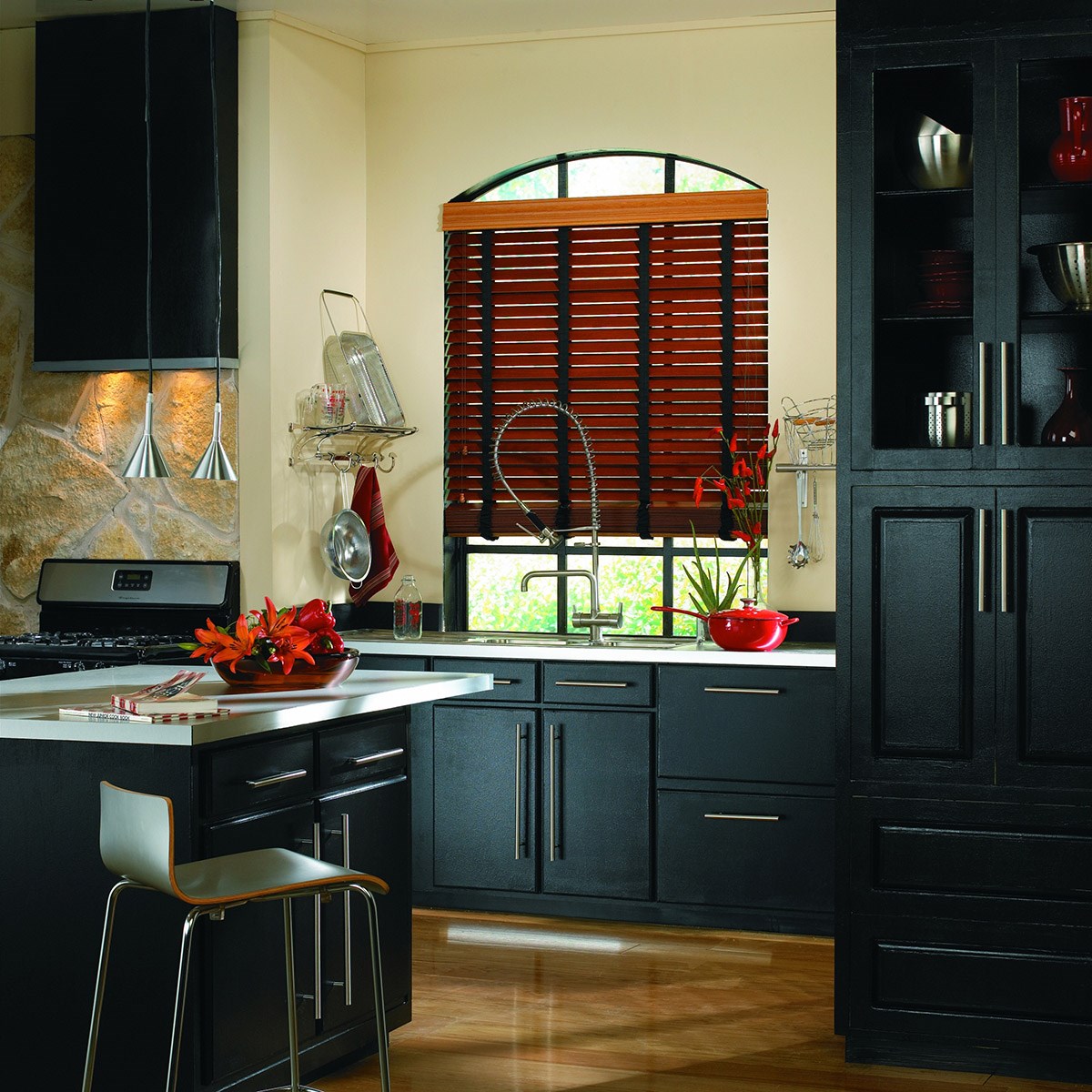 Take a Break From Your Comfort Zone
When outfitting your living room, bedroom or dining room with window treatments, subtle and cohesive options are best. These rooms often have several unified windows, so decorative, ornate, or visually interesting treatments can easily clash or overwhelm a space. With that said, these rules do not apply to your kitchen! 
The spacing of windows in kitchens are usually not uniform. For instance, a window above a sink or next to a nook is common, but you often won't see these light spaces lining up cohesively. Kitchen windows usually stand-alone, meaning you can dress them as such. 
Think of it this way — with your living room windows, you're dressing the band. With your kitchen windows, you're outfitting solo artists. Your living room windows are The Supremes; your kitchen windows are Diana Ross. Have a little fun with it — put them in something that makes them shine!

The Easiest Way to Decorate
Oftentimes, homeowners will try to infuse their personal style through the paint color, furniture, or textiles in their kitchen. These methods don't produce bad results by any means; however, making a statement may be easier than you think. 
Bold window treatments are a fantastic and easy way to bring your aesthetic into a room. There are so many types of treatments that can add a unique and personal look to your kitchen instantly. 
If you like the idea of adding more natural elements, a woven wood shade above your sink can be simply striking. This choice will add a little bit of textural interest in contrast to the smooth walls and your sink's hardware. Add a couple of wooden decorations or art pieces to accompany this treatment, and voíla — your decorating job is done.
Or, what about roman shades? These cloth shades are kind of like curtains, except they're more streamlined, smooth, and controlled. These custom treatments can basically feature any color or pattern you want, meaning the style options are endless with this choice. If you're looking to add a pop of color to your kitchen, these shades are perfect.
If you like to stay on-trend, consider the stylish look of stationary valances. Valances were super popular in the Victorian era, and are now making a more modern comeback. These fabric top coverings are a great way to add an interesting textile without covering your window completely. Make your breakfast nook cute-as-can-be by adding these toppers to the windows around it.

When it comes to Kitchen Window Treatments, Don't Skimp on Durability
Now for the less fun yet very important part — your kitchen is not the place to skimp on durability. This room arguably attracts more mess than any other room in your house. 
The kitchen is a high traffic area that's exposed to food, germs, and every person that comes into your house — guests and residents alike. If you have kids, you may want to just cover this room in plastic wrap (just kidding). All jokes aside, you must be prepared for accidents to happen. 
Don't worry — durability and attractive design coincide in plenty of types of window treatments. The ones to avoid would be cellular shades, light-colored or sheer fabrics, and more delicate textiles or materials. If the treatment you're looking at can be easily ruined by a household cleaner or water damage, put it in the no pile. However, if the treatment you're considering can be easily cleaned, it's likely a good fit for your kitchen. 
Still Unsure about Kitchen Window Treatments? 
Are you looking for more information in terms of the style, durability, use, and pricing of different kitchen window treatments? If so, we're ready to talk with you one-on-one. Windows Dressed Up is made up of a highly qualified staff who loves to gab about home decoration. We're experts in our field, and we want you to feel confident about your choice in treatments! Never hesitate to give us a call. We're here to help!