If you're revamping your window treatments, solar shades are definitely worth looking into. Traditional blinds and curtains can be a nice classic choice; however, solar shades look and act modern. If you're searching for a sleek aesthetic that will turn down sun glare and protect your home from UV rays, go for this solid selection. 
So, What are Solar Shades?
So, what are solar shades? These clever treatments are made out of smooth-coated material, typically vinyl, and come in tons of colors from whites to blacks. With that said, these shades can also come in subtle prints. No matter what, you can count on this material to be somewhat dense and definitely tightly woven — the weave is what will ultimately determine how much UV protection you get. 
What do solar shades do? To start, these window coverings minimize sunlight, reduce glare, and block out UV rays. This benefit can also keep your furniture from fading. So, if your windows get hit by a lot of harsh light, solar shades are probably a must in your home. In addition, they can also offer a partial view, depending on the percentage openness you choose. 
Understanding Solar Shade Percentages 
Probably the most important thing you need to understand about solar shades are their percentages. This factor is pretty straightforward to follow, but choose wisely; the percentage makes a big difference.
The percentage will tell you about the transparency, or lack thereof, of a shade. Follow this simple rule — the lower the percentage, the more opaque the shade is.
100-Percent Awesome.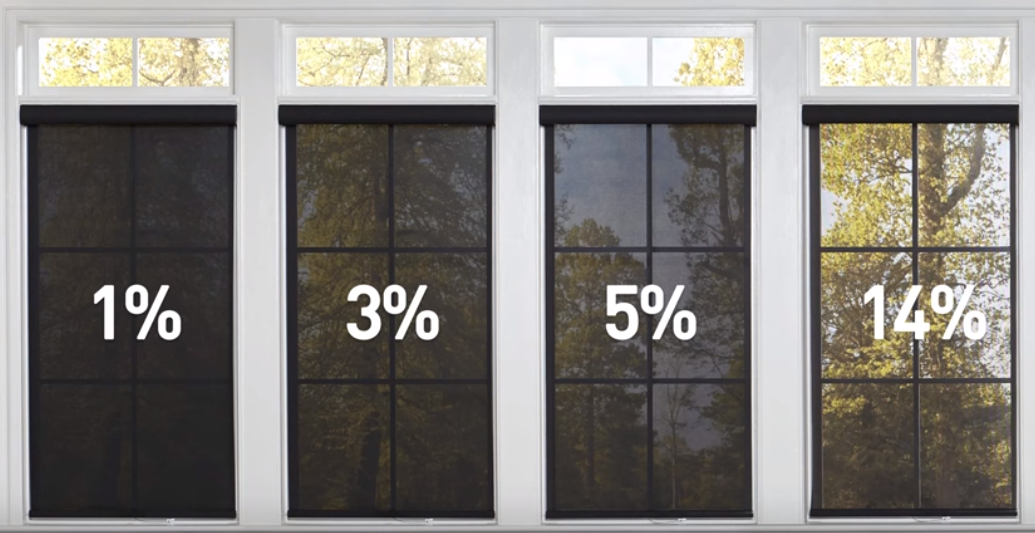 If you stay in the one to three-percent range, you'll gain shades that block out lots of light and harmful UV rays, (99% to 97% UV protection respectively), and provide the utmost privacy and protection. What's more, this type of solar shade will shield your furniture and home textiles from sun damage. 
Move up to five percent, and things change a little. This type offers protection from most UV rays, and is great at reducing screen glare. Consider this option to be the middle ground on the spectrum of solar shades. 
At ten percent, you've got a whole new perspective — literally. These shades are transparent enough to offer a view to your outdoors. With that being said, this choice still blocks some UV rays and reduces glare; just not as effective as their lower percentage counterparts. 
Fourteen percent shades provide the most transparency of them all. If having a view is important to you, this option is the way to go. Just know — you're only getting 86% protection from UV rays with this variety.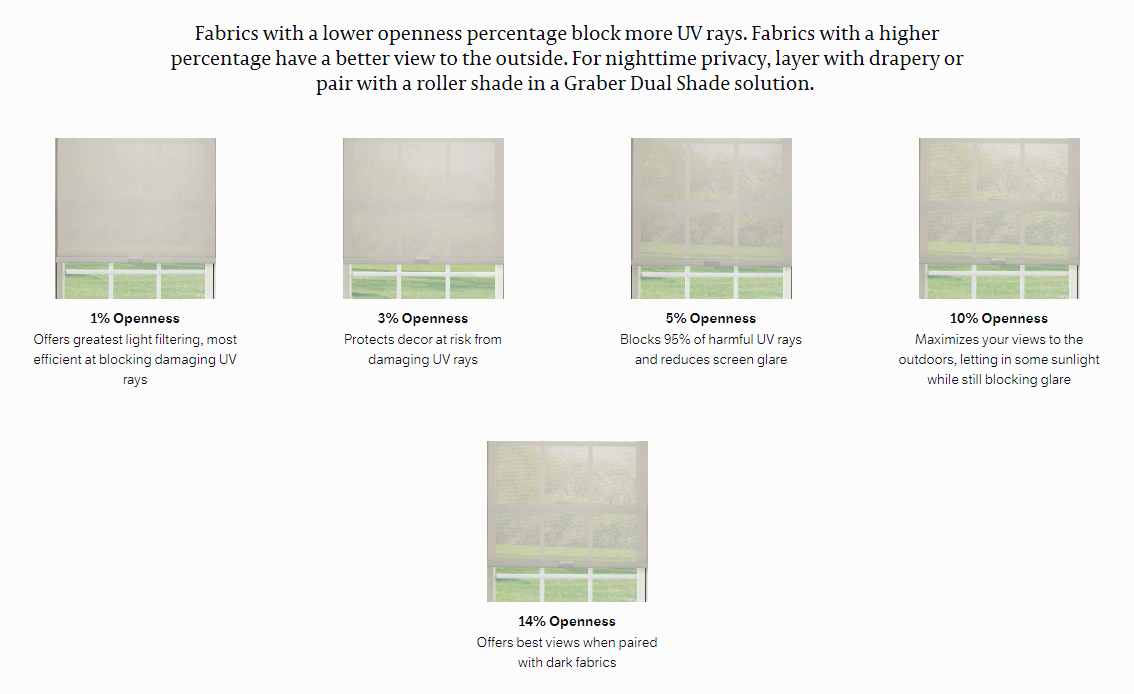 With all of these percentage options, solar shades can really vary in terms of look and function. More percentages mean more personalization! Whichever type you choose, we guarantee they'll look 100-percent awesome in your home. 😎
Transparency and Privacy
Depending on what type you choose, solar shades can give you the best of both in the world of windows — transparency and privacy. Ideally, you need to be in one to three-percent range for adequate privacy. People will be able to see "shadows" at all levels of solar shades, but at least with solar shades, it's possible to have a view without your neighbors having one as well! 
Here's a clever tip — if you're worried about privacy, you can layer solar shades! For example, a 14-percent solar shade topped with a blackout drapery will give you privacy, sun protection, and views galore. Deck out your windows with a combination that's perfectly personalized to you! 
Turn Down the Heat
Are you wondering if these treatments help with the heat? If you live in a warm-weather climate, we know this factor can likely be a deal-breaker for you. Luckily, solar shades can help in this arena! 
Because they block out UV rays and glare, they inevitably block out some heat as well. With that being said, it's up to you to choose the right solar shades if you want to truly turn down the heat. Lighter colors will reflect the sun, so they serve better for heat control; whereas, darker colors actually absorb heat and make it hotter. 
A solar shade's ability to lower temperature comes down to the weave and color of the treatment. For maximum heat control, choose shades of the lowest percentage possible, and preferably ones made in a lighter color. The tighter the weave, the stronger the shield. It may come to you as a surprise but a darker shade will ultimately bring more heat than a lighter shade. 
Any More Q's? Windows Dressed Up is Your Resource
If you have any more questions about solar shades, remember that our capable interior window stylists are one call away. We're happy to chat about these types of treatments, or any type of window covering in general! If you're redecorating your home, or just interested in the world of window treatments, we encourage you to reach out! Trust us, we know our stuff here at Windows Dressed Up. 👍