Given the choice between wood shutters and composite shutters, which would you pick? When it comes to jewelry, diamonds always win over cubic zirconia. There are reasons why designer bags cost more than their knock-offs. Fake plants are, well, not as sophisticated as the real deal. With that said, this formula doesn't necessarily apply to the great wood vs. composite shutters and blinds debate.

Not sure if you follow? Read along to see what we mean by hearing the pros and cons of both categories.

Wood Shutters
Real wood shutters are pretty hard to beat from an aesthetic perspective. Their naturally rich tones, markings, and sheen will elevate your windows and add value to your home. People who are on the side of wood shutters tend to be pretty gung-ho about their superiority. They'll definitely tell you that nothing can match the value and quality of real wood. Are they pretentious, or are they right? We have to admit there is some truth in that statement – even the best brands can't truly copy Mother Nature. 
Cedar, mahogany, pine, and other hardwoods are go-tos when it comes to real-deal window treatments. Within these choices are a multitude of variations which really will affect how a room feels. Dark mahogany will look stunning in an elegant dining room or study; whereas, pine is playful enough for a kid's room or nursery. 

What to Consider when Shopping for Wood Shutters:
To get your wood blinds exactly the way you want them, peruse your options with different stains and paints. Wood's exterior can be modified, making it a little more customizable than composite. 
It's important to note that wood shutters require a little more TLC than their composite counterparts. They're more susceptible to damage from sunlight and general wear – that's an undisputed fact. However, a little wear may just translate as well-loved, depending on how you look at it. Some people like the rustic feel of weathered wood – it adds character!
Composite Shutters and Blinds
If you're looking for window treatments that look sharp but require little effort on your part, composite is your category. Shutters made of vinyl, polysatin, or faux wood are, first and foremost, more cost-effective than wood. For many people, this is reason enough to shut the door on wood home furnishings. Don't confuse inexpensive for cheap either –  the right set of faux shutters can last for years! 
Composite shutters also score big points for their durability. These waterproof window coverings will never crack or warp, even after facing harsh weather conditions daily for an extended period of time. If you live in an especially humid environment, composite is the clear choice. Excessive moisture does a number on real wood, and can even change the actual shape of natural shutters. Luckily, the faux variety can take humidity like a champ.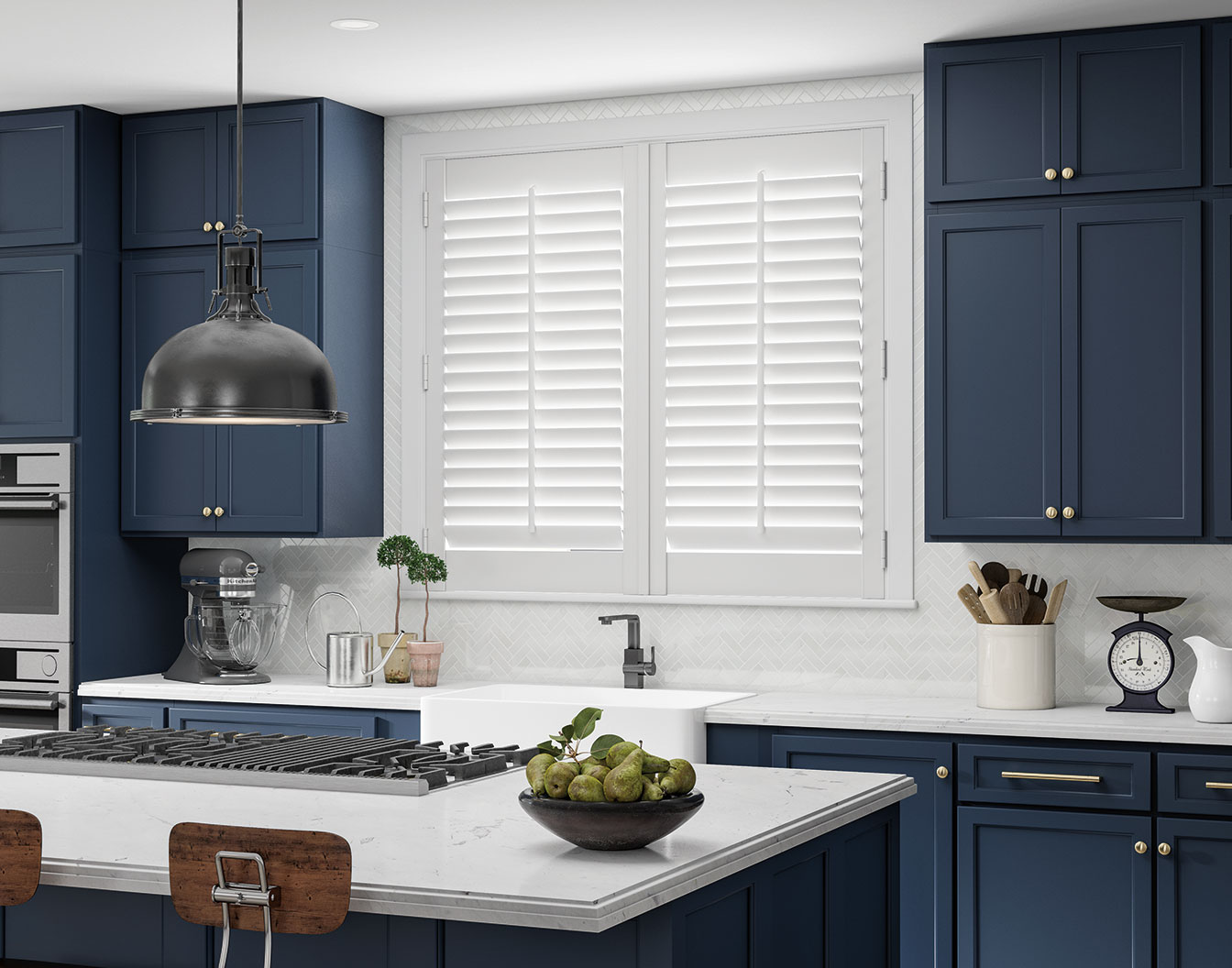 Because composite materials are essentially artificial materials, these shutters can be molded into more exact shapes. This naturally makes faux blinds excellent at light-blocking. Also, if you have an unusually shaped window that needs its clothes custom-made, you can do that with composite. 
We mean it when we say faux shutters "require little effort." They're a breeze to clean and care for in general. You won't find denting, scraping, or visible wear to be a problem with these. In order to keep your composite treatments tidy, all it takes is a little wipe or dusting and you'll be good for a while. Can it really get any easier than that?
Composite or Real, We'll Help You Find a Steal
Our interior window stylists nerd out about window treatments on a daily basis and they'd love to do the same with you! If you have any questions about the differences between the wood vs. composite shutters and blinds debate or need some guidance in making this big purchase, we may know someone. 😉 Don't hesitate to give the staff at Windows Dressed Up a call!