Custom roman shades can fit beautifully throughout a variety of traditional to modern home decors. We're here to walk you through the five different styles of Roman shades to help you understand the beauty in each one, so you have no trouble picking out the right match for you!
What are Roman Shades?
As Hunter Douglas– one of our prominent vendors likes to put it, "Roman shades are the timeless classic in window coverings."

These types of shades are fabric window coverings. Roman shades hang elegantly over a window with the ability to raise and lower from a lifting system, unlike your typical vertical shades or blinds. Roman shades are one of the few window coverings that offer the ability to operate the shade from the top down. Meaning, the shade will be open at the top, letting light in and covered at the bottom for privacy. The rings, used for operation, are sewn on the back of the fabric offering an overall seamless and polished style. 
They are a classic choice in high-end design and can make a delightful statement throughout a person's home. If you are looking for a great way to customize your home with a pop of color or a bold print, Roman shades easily achieve this without the floor-to-ceiling pattern a drape would create.

The Five Roman Shade Styles 
Discover below an in-depth explanation of the five Roman shade styles. Each type can serve as a different touch of design for any and every person. Basically, all Roman shades look similar in the "up" position, as the pleats fold up uniformly. The difference is found when they're fully closed… in their down position. That's where you find the differentiator that speaks to you. Find your match below! 
Flat


A great way to think of the Flat Roman Shade is as your favorite, customized art piece. When down, it embraces a flat of beautiful printed fabric. There are no horizontal seams or stitching across the face of the fabric. It offers a polished look within your chosen style of beauty.

Knife Pleat
The folds of a Knife Pleat Roman Shade are turned inward and sewn together. This type of shade lies flat when lowered but offers form-tailored seams on the front that gives it a more texturized and deeper look than other styles.


Ribbed


Rare from the others, the Ribbed Roman Shade is almost considered the opposite of the Knife Pleat. A plastic bar is inserted and then sewn to create a rib. The dowels are in the front of the shade, unlike the other styles where it's in the back.

Relaxed


The name speaks for itself. Similar to a flat shade, the Relaxed Roman Shade is looser on each side, giving it a "relaxed" look. You might think it somewhat resembles a cloud! 

Hobbled
This Hobbled Roman Shade fits well in a traditional setting, due to a style that gives a sense of tranquility. The stationary pleats flow like a waterfall and as a result, the fabric cascades down over the horizontal slats, keeping its pleats in the down/closed position. It's best used with a solid color fabric versus a print and looks beautiful with a contrasting edge banding or decorative tape.

Why should I consider Custom Roman Shades?
You can purchase Roman shades "off the shelf" if you'd like but we want to encourage you to think otherwise. When you purchase mass-produced Roman shades, your choice in style, texture, and size are limited.
When you choose to shop for custom Roman shades, you'll receive exactly what you want and have confidence that it's the right look and fit for your home. Windows Dressed Up can customize your Roman shades with thousands of fabrics to choose from, or you can pick a solid fabric and go bold with a decorative trim! Also, you have the ability to choose a different operating system including top-down, bottom-up and motorized. Here's a breakdown of what that looks like and the abundance of value behind it! 👇
Getting exactly what you want with thousands of fabrics and color styles to choose from
Precise fitting for your home: We will professionally measure your windows and manufacture your Roman shades to the exact 1/4" of your window opening
Top-notch insulation: Line your Roman shade with a deluxe thermal or black-out liner, creating one of the best options for energy efficiency.
Motorized and cordless for child safety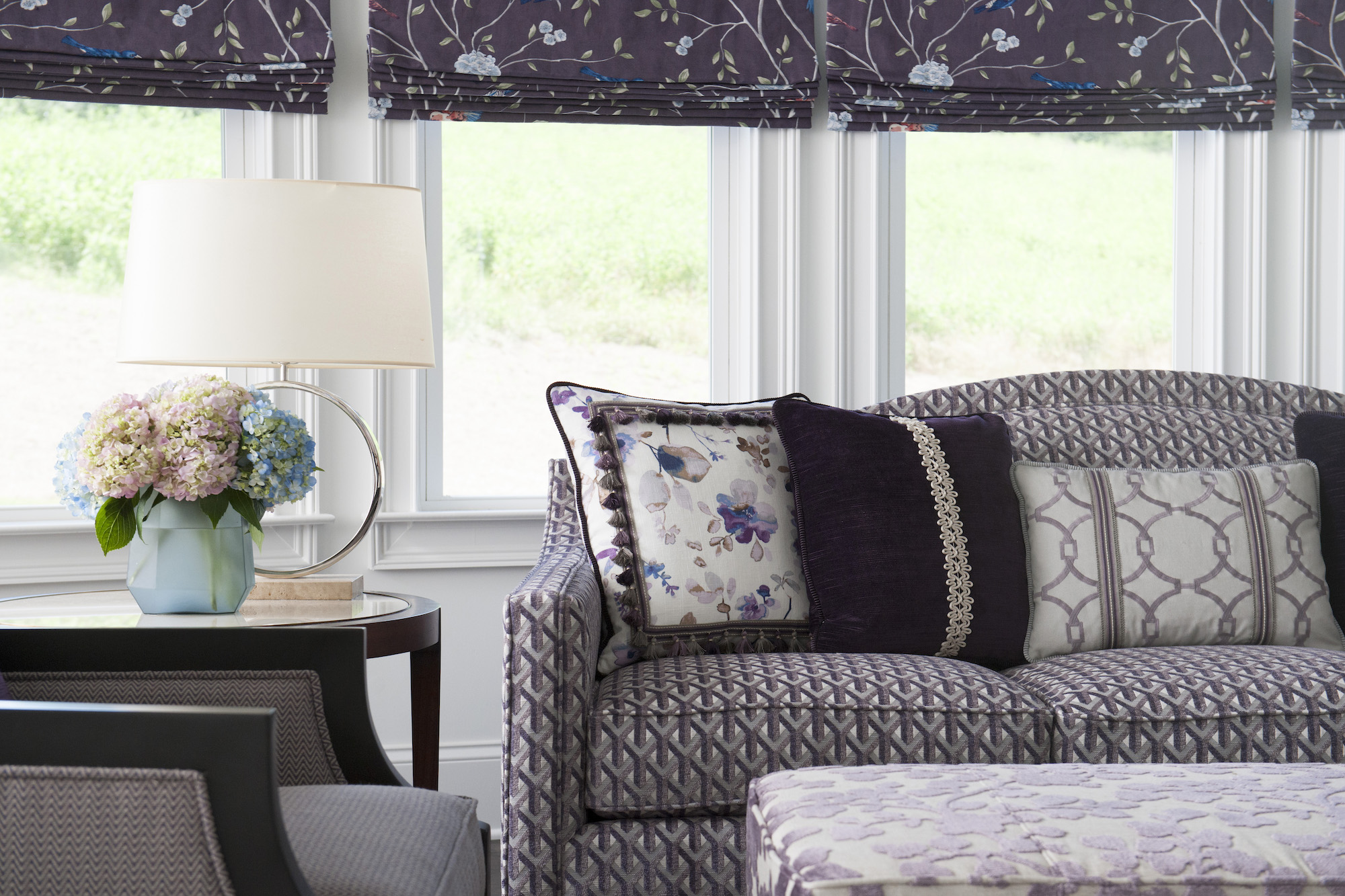 Discuss your Roman shades project and throw around some ideas with one of our specialists!
Windows Dressed Up is a full-service design studio. We'll work with you to customize, create and manufacture any window covering for your home. Are you ready to book your consultation?