Your bedroom should serve as your customized sanctuary where you get to relax, unwind, and get your best night's sleep. We have a few concepts to offer as your bedroom design inspo.
You may not think window treatments can make that big of an impact on the overall design of your bedroom but that's where you'd be wrong. 😉 Don't believe us? Check out these spaces after receiving custom window treatments. 
You can't deny that window treatments make a huge statement in the overall look of any room. Now that we have you intrigued… Here's how you can find the perfect window treatments to achieve your dream bedroom look. 
What to Consider for a Bedroom Design
When selecting window treatments for a bedroom, you should ask yourself the right questions to determine which will look best in your given space. Brainstorm through this list of questions and take note of your answers. This will help you in the next phase determine which window treatments will be best based on the answers you found! 
Do you like to sleep in a very dark room?
Are you concerned about noise reduction?
What are your needs for temperature control? Does your bedroom get really warm or cold at certain times of the year?
Do you like to watch TV in your bedroom and need to control glare?
Are you concerned about your furnishings fading from the sun?
What are your needs for privacy? Can your neighbors see in?
How well do you want to preserve your views when the shade is lowered?
Time for the Bedroom Design Inspo: Addressing your Needs
At Windows Dressed Up, you can find the right match that addresses each of your needs to the questions above. Here's a breakdown of your options.
Insulating Honeycomb Shades 
Duette® Honeycomb Shades are a popular option for bedrooms because they address a variety of needs. These shades offer a wide selection of opaque, light-blocking colors and fabrics. They come with the additional benefit of increased energy efficiency! Their unique honeycomb construction adds a layer of insulation, preventing heat loss at the window and reducing outside noise, so you can sleep comfortably all year long.
Features within the Honeycomb Shades: 
Light Blocking Channels:

Add optional side channels to almost completely eliminate light gaps on your shades. Specifically, the Hunter Douglas LightLock

®

uses unique U-shaped side channels that overlap the front and back of the shades and blend seamlessly into the window frame.

Duo Shades: Traditional Honeycomb shades only have one fabric panel to control light by raising or lowering the shade. Now you can combine two fabric panels in a single shade for different light filtering levels! One of the fabric panels is made from a light-filtering fabric and the other from a light-blocking fabric. Both layers span the full width and height of the shade and can be moved independently.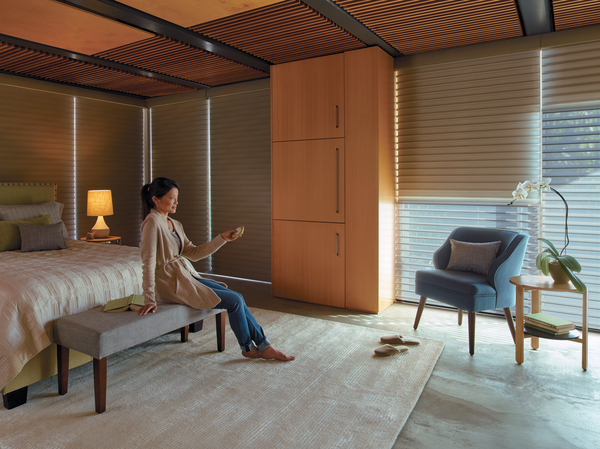 Glare Reducing Shades
Solar Roller shades are a great option if you want to achieve glare reduction and UV protection while maintaining your view of the outdoors. Roller shades also help with energy efficiency and room darkening, but to a lesser degree than Honeycomb shades.
Banded Shades are also a great option for varying light control. These shades combine alternating sheer and solid fabric "bands" in a single roller shade.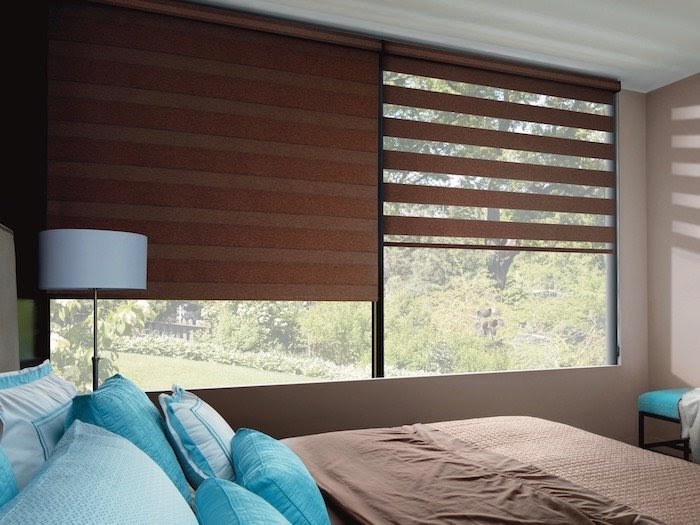 Shades That Add Softness 
Roman shades can add an overall seamless and polished style to your bedroom. There is so much potential when it comes to decorating with Roman shades. With five different Roman styles, endless fabrics, and additional features such as blackout lining and unique patterns, Roman Shades can turn a dull room into a fun, cozy sanctuary.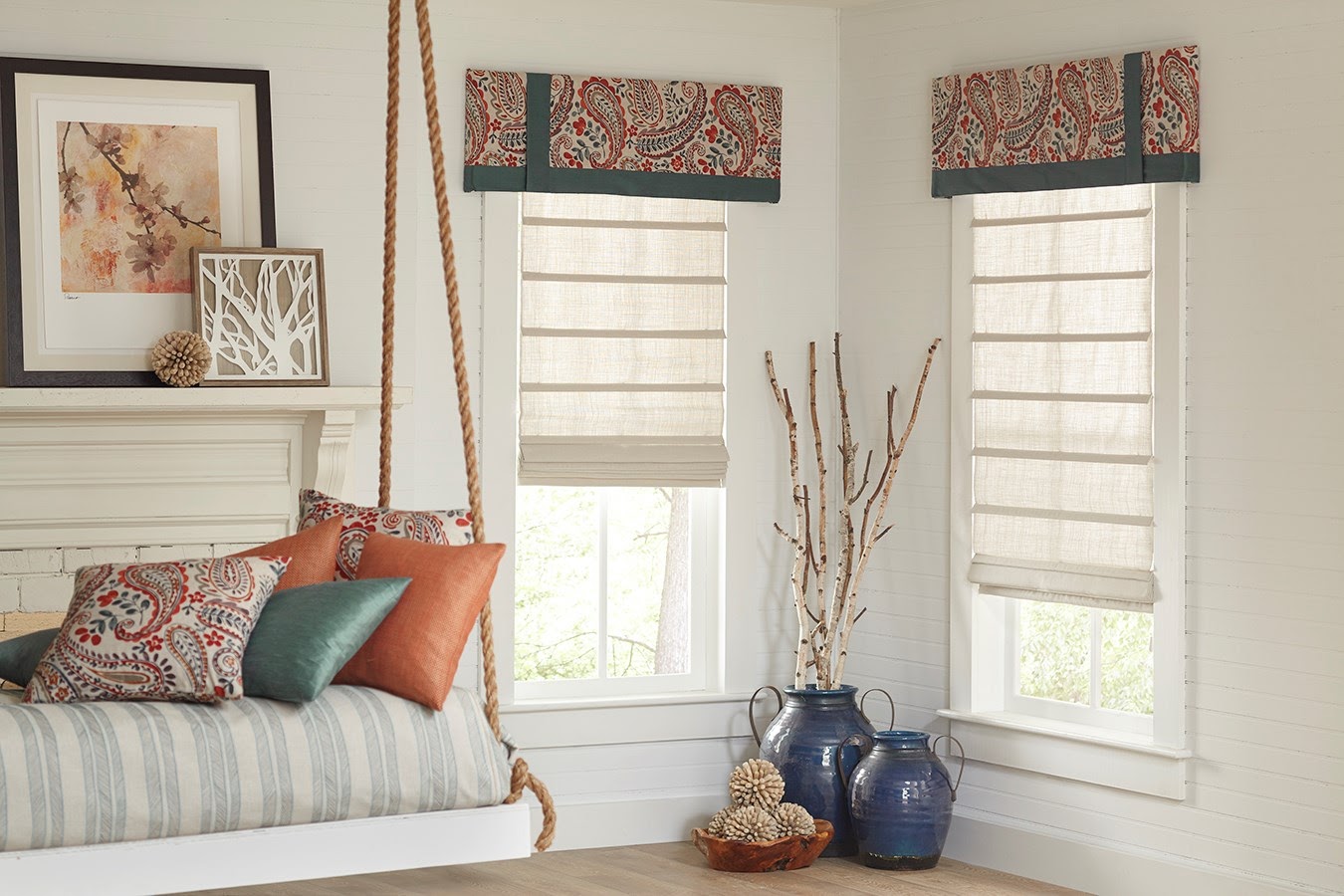 Shades that Filter Light and Maintain your View
The softly filtered light has a magical way of giving your bedroom a peaceful, comforting ambiance.
Silhouette® Window Shadings are a unique type of window treatment, featuring S-shaped vanes that appear to be floating between two sheer fabrics. Simply tilt the vanes to achieve your desired level of light and privacy.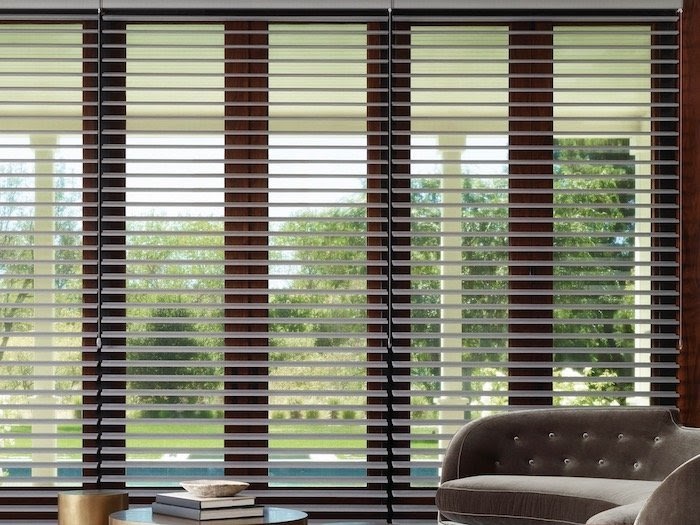 Solutions for Large Bedroom Windows
If you ask the experts, we say custom draperies are the way to go when it comes to dressing up large bedroom windows. Especially great for a sliding door or bay window situation, custom draperies offer both style and function to your space. You can block out 99% of light with blackout drapes, all while warming up the interior of your room. It's where style and function collide.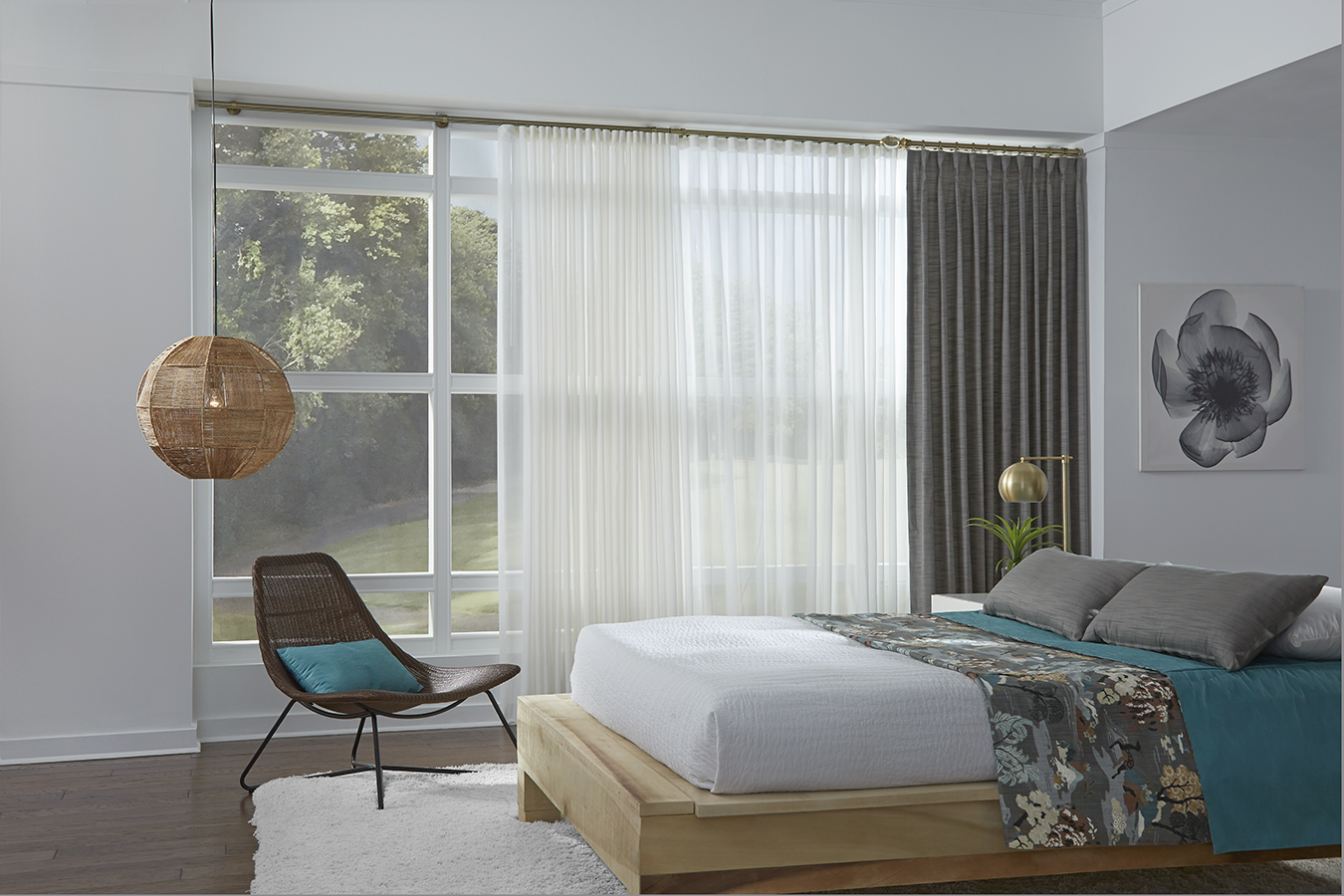 Plantation Shutters
Lastly, Shutters are a classic option when your main goals are energy efficiency and privacy but you are less concerned about room darkening. Our classic plantation shutters come in a wide variety of long-lasting materials and finishes. 
Choose from:
Real Hardwood Shutters: With real wood comes real benefits. Graber offers the best craftsmanship in wood shutters with 100 percent North American hardwood. Hardwood shutters are built durable and completely unique from the next. After all, no one piece of wood is comparable to another. When you choose to use hardwood shutters, you'll receive something so individual and articulated, it's hard to beat. Hardwood shutters tend to be harder to care for due to the CO climate.
NewStyle® Hybrid Shutters: However, Hybrid Shutters are another excellent option for your shutter solutions. Although the Hunter Douglas hybrid shutters are made with wood composite material, they are our personal favorite and best selling shutter to date! When it comes to the CO climate, your shutters will face the extreme sun and dry conditions. The durability of the hybrid material holds up extremely well in spite of the crazy weather and they are easy to maintain! Best of both worlds if you ask us.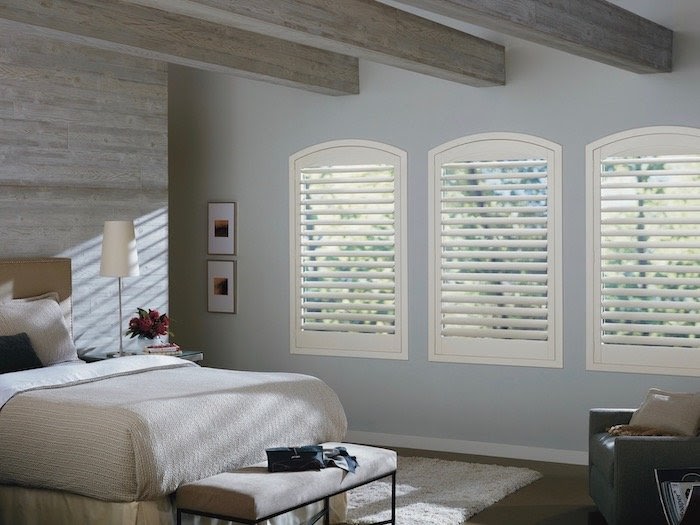 To Truly Captivate Your Best Bedroom Design Inspo 
To add the final touch to your overall look, you may notice in the pictures shown that the window treatments are matching certain pillows or bedding. This is the perfect way to customize your look and differentiate from everyone else. 
Windows Dressed up offers custom accent pillows and bedding while providing your desired window treatments. To learn more about this customization, connect here!